Jerry L. Williams III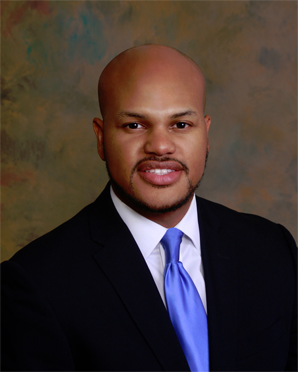 Partner
Location: Annapolis, Maryland
Phone: 410-415-9333
Fax: (888)875-5217
Email: E-mail Me
Jerry L. Williams, III is a founding partner of Patel & Williams, PLLC. He admired his grandfather and father, also lawyers who represented individuals in a wide range of issues including civil rights advocacy and representing disabled individuals. Mr. Williams became a lawyer to continue the legacy focusing on protecting the rights of others. Mr. Williams pursues each case with tenacity and poise. He began his career in a boutique law firm specializing in family law cases, including divorce, child custody and child support cases, and protecting the interest of homeowners who had been scammed by companies that forced them into foreclosure, while taking the equity from their homes. Since founding Patel & Williams, Mr. Williams strives to provide quality affordable legal representation to individuals.
He focuses on personal injury cases, specifically representing individuals seriously injured in automobile and motorcycle accidents, pedestrian accidents, and defects of the road. He also focuses on representing disabled individuals who are denied Social Security Disability (SSDI) and Supplemental Security Income (SSI) benefits from the Social Security Administration from the initial application through the appeals process. Mr. Williams also represents clients in an array of matters including divorce and child custody, criminal defense and business matters.
Mr. Williams is licensed to practice in the state of Maryland and the District of Columbia. Mr. Williams makes time to provide representation to individuals who cannot afford legal representation. Mr. Williams was recognized by retired Chief Judge Robert Bell and Governor Martin O'Malley for his contribution to the Foreclosure Prevention Pro Bono Project in the State of Maryland.  Mr. Williams has also been recognized by the Montgomery County Bar Association for Outstanding Pro Bono Service and has represented several clients filing for divorce and child custody who were unable to afford an attorney in Montgomery County, Maryland.  Mr. Williams is an active member in the community and the jurisdictions that he serves and continues to believe that everyone has a right to be represented.
Areas of Practice
Accident Injury Litigation
Social Security Disability
Divorce Custody, Child Support
Litigation Percentage
75% of Practice Devoted to Litigation
Bar Admissions
Maryland
District of Columbia
U.S. District Court District of Maryland
U.S. District Court of the District of Columbia
Education
University of Akron School of Law, Akron, Ohio
University of Virginia, Charlottesville, Virginia
Classes/Seminars
Social Security Disability Bootcamp, Presenter, NBI, October 6, 2014
Special Education Law Training, CLE, 2013
Federal Practice and Social Security Disability Appeals, CLE, 2012
Maryland Mortgage Fraud Prevention Project, 2010
Social Security Disability Law Conference, NOSSCR, 2010
How to Prepare for a Pendite Lite Hearing, CLE, 2009
Handling Drinking and Driving Cases in Maryland, CLE, 2009
Collections CLE, Montgomery County, MD Bar Foundation, 2009
Maryland Foreclosure Procedures, CLE, 2007
How to Represent a Claimant in a Social Security Disability Claim, MICPEL, 2007
Honors and Awards
Montgomery County Bar Foundation President's Citation for Outstanding Pro Bono Service
Professional Associations and Memberships
Pro Bono Activities
Tax Sale and Tax Foreclosure Clinic, 2016
Montgomery County Bar Pro Bono Program
District of Columbia Pro Bono
Wills for Heroes, 2008
Maryland Mortgage Fraud Prevention Project, 2010
Bankruptcy Training for Pro Bono Attorneys, 2007