Devanshi Patel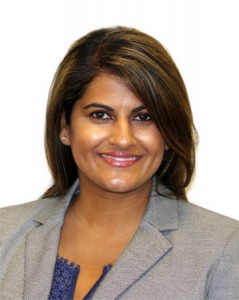 Partner
Location: Arlington, Virginia
Phone: 703-522-2777
Fax: 888-875-5217
Email: E-mail Me
Devanshi Patel's practice focuses primarily on juvenile and family law matters. She has dedicated her professional and personal time in working toward creating healthier children, youth, and families in Arlington, Virginia. In doing so, she frequently represents juveniles in delinquency and status matters in the roles of defense counsel and Guardian Ad Litem and, adults in criminal and child welfare matters. Ms. Patel also represents adults seeking assistance in divorce, child custody, and child support matters.
Ms. Patel is committed to the community in which she was raised. In 2012, Ms. Patel was appointed by the Arlington County Board to serve on the Arlington Partnership for Children, Youth and Families ("APCYF"), which is comprised of dedicated community members along with County and School Staff, charged with researching the needs of children, youth and families, advocating for improved policies and programs, and engaging the community in solutions to improve the well-being of the community. She served as the Chair of APCYF from 2015-2017.  As the former Chair of APCYF, Ms. Patel serves as the liaison to Project Peace, a countywide collaboration dedicated to preventing and improving responses to domestic and sexual violence in Arlington.  In January 2017, Ms. Patel was appointed by the Arlington County and School Boards to serve on the Joint Facilities Advisory Commission, which is charged with providing input to the Boards on capital facilities needs assessments, capital improvement plans and long range facility planning for both the Arlington County Government and Arlington Public Schools.  Ms. Patel also serves on the Board of the Friends of Argus and Aurora House, which aims to financially support programs and services in Arlington County and the City of Falls Church that assist youth in becoming responsible, positive and productive members of their families, the community, and society.  Ms. Patel also is actively involved in efforts to transform the juvenile justice system that focus on evidence-based practices to improve youth outcomes.  Since 2013, Ms. Patel has served as an adjunct professor at her alma mater, Howard University School of Law.
Ms. Patel is proud to have been selected as a 2014 40 Under 40 Honoree by Leadership Arlington.  In June 2017, Ms. Patel was recognized by the Arlington County Bar Foundation for her considerable volunteer service to organizations and agencies that address the needs of children and youth in the community.
Ms. Patel comes from a family of civil rights attorneys, including her grandfather and great-grandfather who worked tirelessly in India's campaign to secure independence . Ms. Patel and Mr. Williams started the law firm with the core belief that all persons have the right to effective representation and, to that end, they represent numerous pro bono clients throughout the year.
Areas of Practice
Family Law (Divorce, Custody, Child Support)
Guardian Ad Litem for Children in Arlington County and the City of Falls Church
Juvenile Delinquency
Child in Need of Services
Child in Need of Supervision
Child Welfare and Abuse & Neglect
Marriage-Based Immigration
Special Immigration Juvenile Status
Criminal Law
Personal Injury
Bar Admissions
District of Columbia
Virginia
Education
Howard University School of Law, Washington, District of Columbia

Law Review: Howard Law Journal, Articles Editor

George Mason University, Fairfax, Virginia

Major: Government & International Politics
Professional Associations and Memberships
Arlington County Bar

Judicial Selection Committee (2016-2019)

Virginia State Bar
District of Columbia Bar Association
NAACP (Arlington Chapter)
Past Employment Positions
Fulbright & Jaworski, L.L.P., Associate
Watt, Tieder, Hoffar & Fitzgerald, L.L.P., Associate
Languages